Getting a whole audio NT from a BibleBox typically involves downloading 260 separate files, so it is important to be able to group and compress files for faster download times.
In contexts where a group of users will only have access to the BibleBox signal for some hours, or if they arenꞌt yet highly proficient in downloading files with their phone, like in migrant farm worker housing units in Mexico during evening outreaches, you want to be able to have people download files from your BibleBox as quickly as possible.

In situations such as this where you are using a BibleBox, zipping audio files into a single Zip file and offering 7Zipper-2 Android app also as a download from your BibleBox will enable much faster download of large numbers of files.
BibleBox users can then download 7Zipper-2 to their mobile device and install it, then download your zipped files.
Once the zipped file download is complete they will be able to uncompress the zip using the 7Zipper-2 app.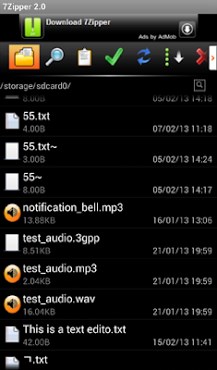 Steps:
Compress your groups of files into a single zip file using 7-Zip or whichever Zip utility you have on your computer.
Copy the Zipped file across to your BibleBox shared files location.
Go to http://www.appsapk.com/7zipper-2/ and download the Android app 7Zipper-2
Place this file also onto your BibleBox USB Shared files folder
Tips:
Once a user has downloaded the 7Zipper-2 app APK file, they will need to install that. Some devices have a default security setting where installing "unknown" apps is not allowed. Make sure this is turned off to enable the installation of 7Zipper-2 onto the device.  It can be turned on again after install.
It may also be beneficial to your BibleBox users to have a simple "How to" text document that explains the installation/unzipping process in the BibleBox Shared files folder in their own language.
Thanks to John Edmiston and Allan L for sharing from their BibleBox experience.